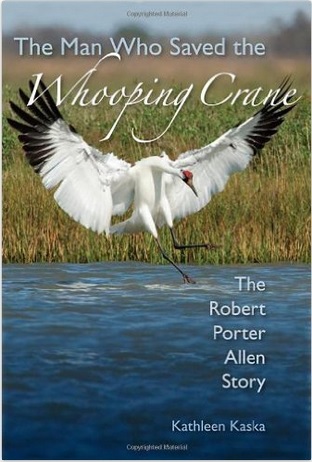 Chapter One
By Some Strange Miracle
It was April 17, 1948 in the early hours of a muggy Texas morning on the Gulf Coast. The sun at last burned away the thick fog that had settled over Blackjack Peninsula. The world's last flock of wild whooping cranes had spent the winter feeding on blue crab and killifish in the vast salt flats they called home. During the night, all three members of the Slough Family had moved to feed on higher ground about two miles away from their usual haunt. The cool, crisp winter was giving way to a warm balmy spring, the days were growing longer, and territorial boundaries were no longer defended. Restlessness had spread throughout the flock.
As Robert Porter Allen drove along East Shore Road near Carlos Field in his government issued beat-to-hell pickup, he spotted the four cranes now spiraling a thousand feet above the marsh. He pulled his truck over to the roadside and watched, hoping to witness, for the first time, a migration takeoff. One adult crane pulled away from the family and flew northward, whooping as it rose on an air current. When the others lagged behind, the crane returned, the family regrouped, circled a few times and landed in the cordgrass in the shallows of San Antonio Bay. It was Allen's second year at the Aransas National Wildlife Refuge. He had learned to read the nuances of his subjects almost as well as they read the changing of the seasons.
In the days preceding, twenty-four cranes left for their summer home somewhere in Western Canada, possibly as far north as the Arctic Circle. This annual event, which had been occurring for at least 10,000 years, might be one of the last unless Allen could accomplish what no one else had.
The next morning when Allen parked his truck near Mullet Bay, the Slough Family was gone, having departed sometime during the night. That afternoon, he threw his gear into the back of his station wagon and followed.
Robert Porter Allen's colleagues often joked that the charismatic ornithologist could walk into a room of adversaries and have them questioning their lifelong beliefs in less than five minutes. He stood solid solid and strong, yet there was a pleasant and easy air behind the deep tanned face. A no-nonsense sort of man who couldn't be bothered with excuses or the idea of defeat, Allen possessed a subtle self-confidence that did not come one with experience; it was clear from the get-go that Bob Allen was born with the drive, tenacity, and ability to change minds. In a community where many locals cared nothing for the protection of a few birds, Allen could turn the hostile tides gain sympathy, and have ardent adversaries pledge their support to his cause. And that cause was inevitably – – – saving birds.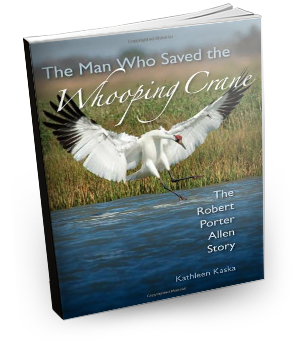 Get your copy today!
Two convenient buying options:
PayPal:
 Amazon.com

Publisher: University Press of Florida
Format: Hardcover and Kindle
ISBN-10: 0813040248
ISBN-13: 978-0813040240
Praise for The Man who Saved the Whooping Crane
"Finally, Robert Porter Allen gets the credit he deserves for his tireless work on behalf of the whooping crane. Kathleen Kaska movingly recounts an adventurous life dedicated to the preservation of endangered birds when the odds were overwhelmingly against success—a hurricane in the Caribbean, armed unrest in Cuba, an unwelcoming Canadian wilderness. Kaska's narrative reads like an adventure novel!"
Elizabeth J. Rosenthal, author of Birdwatcher: The Life of Roger Tory Peterson
"Kaska tells the remarkable story of Allen's life and work. While we own him the life of American's most notable bird and our biggest story of saving a species, Allen himself has been largely forgotten. Kaska sets out to remedy this neglect with the quick clear prose of a freelance magazine journalists."
Book News Inc. February 2013
"Even if you are not a bird lover or nature lover, and even if you think the environmentalist movement is a bit wacko, you will enjoy Kathleen Kaska's telling of Bob Allen's story."
Paul Mastin, Top 1000 Reviewer