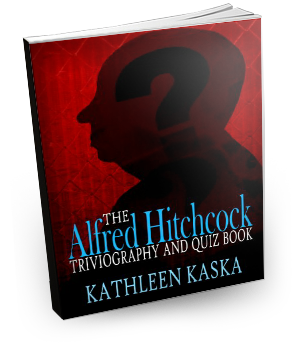 2013 Epic Finalist for Nonfiction
Think you know everything there is to know about the genius filmmaker Alfred Hitchcock?
Think again!
The Alfred Hitchcock Triviography and Quiz Book asks more than 1,000 questions about the Master of Suspense. It contains quizzes on all 53 of Hitchcock's films, his televisions show Alfred Hitchcock Presents, and his personal life. Each chapter also contains behind-the-scenes anecdotes, casting choices, quips and quotes, and awards and achievements.
Praise for The Alfred Hitchcock Triviography and Quiz Book
"A must read for any fan of filmmaker Alfred Hitchcock and movie history. The quizzes are fun and challenging—and the surrounding text provides a wealth of information on the life/work of the revered filmmaker. A real treat for pop culture enthusiasts!" James Robert Parish, author of The Hollywood Book                                                                                         of Scandals

Get your copy today!
Two convenient buying options:
 PayPal:
Amazon.com

Publisher: LL-Publications
Format: Paperback, Kindle
ISBN-13: 9781580630702
ISBN: 1580630707