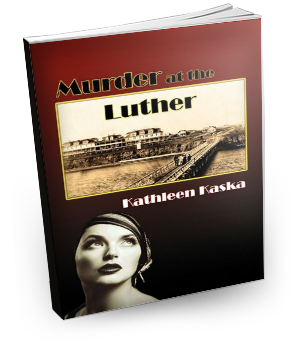 New Year's Eve, 1952. Texas politicians are backslapping and ringing in '53 at the historic Luther Hotel on the Texas Coast. Reporter Sydney Lockhart is there covering the festivities. The celebration turns sour when Sydney finds herself dancing with a dead man. With her fingerprints on the murder weapon and a police chief with his own agenda, Sydney ushers in the New Year behind bars. Soon there is another body, more damning fingerprints, and a crazy Cajun who's been paid to feed Sydney to the alligators. Things get worse when cousin Ruth comes to town with a problem even Sydney can't solve.
Praise for Murder at the Luther
"Kathleen Kaska's book is a neatly written, fast-paced and entertaining thriller. Her central character, Sydney Lockhart, is a feisty, strong and believable heroine, embroiled in a charmingly nostalgic murder-mystery, reminiscent of the classic Agatha Christie style whodunits that would also transfer successfully to stage and screen."  John O. Raab, Editor of Suspense Magazine
Get your copy today!  
Two convenient buying options:
PayPal
 Amazon.com:

Publisher: Salvo Press
Format: Paperback, Kindle,
ISBN-10: 1609770064
ISBN-13: 978-1609770068
Book Group Discussion Questions for Murder at the Luther:
1.  Sydney has a few character flaws. Does this affect how you relate to her?
2.  Sydney and Ruth are at odds with one another most of the time. Do you ever take their disagreements seriously? And does their bickering affect the story?
3.  How do you feel about Ralph Dixon showing up in the second book? Were you surprised?
4.  Sydney and Dixon are connected professionally because of their attraction to one another. Would you like to see Dixon as a reoccurring character?
5.  The series takes place in the early 1950s. Does the author capture this decade in her dialogue and descriptions?
6.  Most of the characters are quirky, to say the least. Do their actions fit their personalities? Example: Mongoose the Cajun, Emma Fogmore, and Loretta Buckner.
7.  Just as in Murder at the Arlington, Sydney is traipsing all over the county. Do the myriad locations enhance the story?
8.  The hotels mentioned in each Sydney Lockhart mystery are actual historic hotels, which are still in operation. Would you ever consider visiting or staying at one of the hotels?