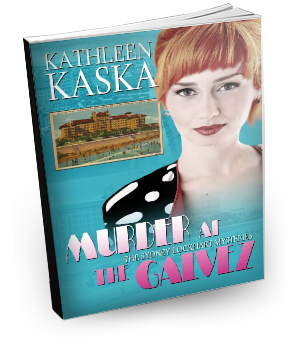 Eighteen years after discovering the murdered body of her grandfather in the foyer of the historic Galvez Hotel, Sydney Lockhart reluctantly returns to Galveston, Texas to cover the controversial Pelican Island Development Project conference. Soon after her arrival, the conference is cancelled; the keynote speaker is missing. When his body turns up in the trunk of Sydney's car, she's hauled down to the police station for questioning.

Praise for Murder at the Galvez
"Has Kathleen Kaska created a new mystery subgenre — the hard-boiled cozy? I'm tempted to think so after reading this third book in her terrific Sydney Lockhart series. Newcomers and well as fans of the first two books will be charmed, delighted, amused, and generally bowled over by the latest installment. Kathleen Kaska knows how to pack a novel with laugh-out-loud humor without lessening the break-neck pace or the suspense. I couldn't wait to get to the end . . . but I also didn't want it to end! Fortunately, the next book in the series is already on deck." – Dan Andriacco, author of the Sebastian McCabe – Jeff Cody Series.
Get your copy today! 
Two convenient buying options:
Amazon.com

Publisher: LL-Publications
Format: Paperback, Kindle
ISBN: 978-0-9574726-1-7
ASIN: B00AKZ8J9E
Discussion Questions for Murder at the Galvez 
1. Why was Sydney's grandfather given a shady, colorful past?
2.  What traits do George Lockhart and Ralph Dixon have in common?
3.  How did having Sydney's entire family involved affect the story?
4.  What theme appears in all Sydney Lockhart mysteries?
5.  Why are Sydney and her mother antagonistic toward one another?
6.  Has the relationship between Sydney and Ruth changed? If so, how?
7. Sydney's father and grandfather were both huge influences in Sydney's younger life. How were their influences different? How were they alike?
8.  Was Lattie the Lush and Sydney's father really having an affair?