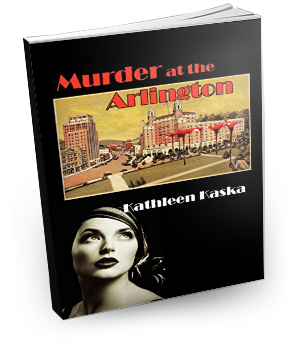 It is 1952. Reporter Sydney Lockhart checks into the historic Arlington Hotel in Hot Springs, Arkansas. Before she even unpacks, she discovers the brutally murdered body of the hotel's bookkeeper. What had begun as a simple travel-writing assignment now turns into a murder investigation. The bad news is that Sydney is a suspect. Determined to clear her name and prove herself a reporter deserving more than just travel assignments, Sydney becomes embroiled in the underworld of gangsters and gamblers. In her fight for the truth, she soon faces a more urgent battle: saving her own skin.
Praise for Murder at the Arlington
"This is a twisty, fast-paced ride with a lot of laughs along the way. I can't wait for the next adventure starring Sydney Lockhart. Kathleen Kaska has created one of the most memorable characters in years."—Ben Rehder, Edgar Award Finalist
http://www.indiebound.org/search/book?searchfor=Murder+at+the+Arlington&search=Search
Get your copy today!
Two convenient buying options:
PayPal:
 Amazon.com

Publisher: Salvo Press
Format: Paperback, Kindle, Audio
ISBN-10:1930486898
ISBN-13: 978-1930486989
Discussion Questions for Murder at the Arlington
1.  What was your impression of Sydney's response upon finding the body in her hotel room?
2.  How does Sydney's cousin, Ruth Echland, affect the plot?
3.  What are Sydney's true feelings about being single?
4.  What is the theme of the story? The series is set in the early 1950s. Would the theme change if the story were set in current times?
5.  How does Sydney's life differ from most other women of her time? Where would you say she places her emphasis?
6.  Would you describe Sydney as a rebel? Why or why not?
7.  How does Sydney's relationship with her father reflect who she is? How about her mother?
8.  Besides Sydney visiting the casinos and a few other shady places in Hot Springs to find the killer, what else resulted from her underground forays?