Now Available at Cave Art Press and Amazon.
Do You Have a Catharsis Handy? Five-Minute Writing Tips
$9.95
These five-minute writing tips had their origins as Cave Art Press blog posts. The tips include writing styles, grammar and punctuation rules, and tips on the down and dirty of publishing and marketing. To keep these tips short and humorous, references and stories about egg-laying chickens and how dogs think, The Three Bears and The Seven Dwarfs, Contrary Mary and Goldilocks, my high-school English teachers and the United States Post Office, 77 Sunset Strip and Breaking Bad, Pope Francis and Michelle Obama, and a prairie dog who walked into a bar were used.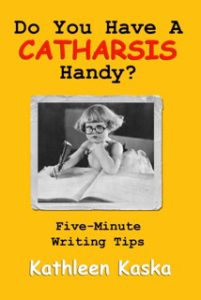 Save
Save