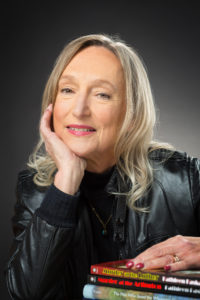 Growing up in West, Texas during the 1950s, my average-American parents and the nuns at St. Mary's School instilled in  me"good girl" values, leaving an indelible stamp on my character. For respite from this engrainment, I began writing my Sydney Lockhart Mystery Series—set in historic hotels during the fifties, of course—to say and do things I would "never try at home."
I also write the Classic Triviography Mystery Series. My Alfred Hitchcock and Sherlock Holmes trivia books were finalists for the 2013 EPIC award in nonfiction.
When not writing, I spend much of my time with my "pilot," traveling the country's back roads and byways; bird-watching; and looking for new locales for my mysteries. It was my passion for birds that led to The Man Who Saved the Whooping Crane: The Robert Porter Allen Story (University Press of Florida 2012).
When too road weary, I split time between my two favorite places, the Pacific Northwest and the Texas Coast. It's tough though, having been born with the original sin of wanderlust. Nonetheless, my lap top is nicely stowed in my bag and a bird-reference book and binoculars are always on the front seat.
After graduating from University of Texas at Austin with a degree in physical anthropology, I taught middle-school science for 25 years. I was a staff writer for AustinFit magazine from 1997-2002. My articles have appeared in Cape Cod Life, Marco Polo, Agatha Christie Chronicle, Texas Now, and Home Cooking Magazine. I am an occasional contributor to Texas Highways magazine.
Run Dog Run is the first book in my new animal-rights mystery series. It was released in March 2017 by Black Opal Books. It is set in the Texas Hill Country and centered around the world of greyhound racing. It's available in bookstores, on Amazon, and Barnes and Noble online.
On a different note: I'm the marketing director for Cave Art Press. My 5-Minute Writings Tips blog posts are being published in book form. Do You Have a Catharsis Handy: Five-Minute Writing Tips? and will be released in September 2017. For updates, check out the "book" page.
Visit me on my Amazon.com page!
Also visit me on Hometown Reads on the Austin, Texas page and the Seattle, Washington page: https://goo.gl/NyRSzC