When I was a little girl I wished for a horse more than anything. Roy Rogers and Dale Evans had my attention every Sunday afternoon. The closet I got to to my wish was a Dale Evans outfit and a pair of red cowboys book for my fifth birthday. Later, when I was much older, I led trail rides on a ranch near Austin. I still love horses, but keeping one on the deck of my condo would violate the HOA rules. So, to say I enjoyed reading Carole Beer's mystery, Saddle Tramps, is an understatement. I am delighted to announced that her second Pepper Kane mystery, Over the Edge, which takes place in one of my favorite Texas cities, Fort Worth, was released on October 14. Here's Carole. I'll let her tell you about her spunky, horse-owner protagonist Pepper Kane.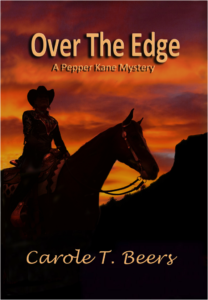 KK: It's time to get your protagonist out of her/his comfort zone. You want to present Pepper with a challenge and you've given her the following choices: climb Mount Everest; run a Marathon; trek across the Sierra Desert with a tribe of nomads; or sail around the world alone. Which would she choose?
CTB: Hi, Kathleen. Such an honor to be here! Your blog is among the most fun and informative ones around. But to your question. The heroine of my Pepper Kane mysteries definitely would choose Door #3: Trek across the dessert with a tribe of nomads — as long as they use Arabian horses in addition to camels! She loves open lands where you can gallop a horse and feel the wind in your hair, she sees clues and meaning in apparently empty places, and feels deep empathy with Native peoples.
KK: If your Pepper could live in another time period, which would she choose and why?
CTB: Pepper — so named because her father raises and sell chilis, plus, she's spicy herself — would have a blast in the 1920s. She would bob her red hair, shimmy into a short, fanged chemise and dance the night away, right after she writes a potboiler front-page story for a metropolitan newspaper.
KK: If she could change anything in her life, what would it be and why?
CTB: Pepper would want to spend more time with Chili and Serrano, her adult kids in Seattle – a seven-hour drive from Southern Oregon — and with her lover, Lakota tribal cop Sonny Chief. So she might just have to establish have a second residence with her elusive Sonny, in Washington state! She would bring her horse and Boston Terriers, of course.
KK: What do you and Pepper have in common?
CTB: Oh, boy. Gotta tread lightly here, Kathleen. A lady author must not tell three things: Her age; which real people inspired her characters, a potentially libelous situation; and if the book heroine is really her. Since I cannot sue myself, I confess that Pepper and I have many similar qualities and experiences! Ex-reporter, redhead freckles and temperament, endless curiosity, a love of horses and open country, and (mostly) energy to burn.
KK: If you and Pepper had an argument, who would win and why?
CTB: I'd put my money on Pepper. She's way more fearless than I. And this fifty-something is even less willing than I to admit she's wrong. If that's possible!
KK: What's in store for her in your next mystery?
CTB: In the upcoming "Ghost Ranch" (2018), Pepper and her friend, Tulip Clemmons, have long dreamed of opening a guest ranch, as their tack store, The Best Little Horsehouse in Oregon, is struggling and their horse-show habit is draining their savings. When a riverfront farm next to her parents comes up for sale, she goes to investigate it – only to find a murdered woman in an old cabin cursed by a famous writer who hanged himself there. Endangering her life as well as loved ones', drawing fire from law enforcement, and trying to save her bumpy love affair with her absentee lover, Pepper races to solve the mystery and dispel the curse so she can make her own dreams come true.
ABOUT CAROLE T. BEERS

Carole T. Beers, a Northwest native, worked as a reporter, columnist and critic for The Seattle Times for more than 30 years before returning to Southern Oregon to write fiction. Her collaborative novel, "Naked Came the Rogue," was published in 2011 by Jackson County Library Services. Her full-length mysteries, Saddle Tramps and Over the Edge, set in the modern-day Rogue River Valley, were published in 2016 and 2017. Saddle Tramps for a period was the late, great Seattle Mystery Bookshop's No. 1 Bestselling Trade Paperback.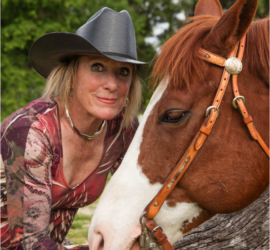 A PEEK AT OVER THE EDGE
OVER THE EDGE — A Pepper Kane Mystery by Carole T. Beers (Book Two)
Danger and desire swirl about modern cowgirl-sleuth Pepper Kane as she uses her ex-reporter skills to solve mysteries she suspects are related. A runaway daughter. A rider shoved off a cliff at Oregon's Table Rock. Death threats to her, her horse trainer and judges at a show in Texas – where Pepper and her Brassbottom Barn buddies will vie for world titles, and for prize money that can save Pepper's struggling tack store, The Best Little Horsehouse in Oregon.
Time is running out. Dangers escalate. The Law questions Pepper's involvement in the crimes. Even her unconventional affair and crime-solving alliance with Lakota tribal cop Sonny Chief is in jeopardy.
Arriving in Fort Worth, ready for the show of her life, Pepper stumbles on a body. She rushes to learn who's behind the murder and how it connects to the other crimes. Along the way, she battles doubt, betrayal and heart-pounding action that can change her life — or end it.