I'm honored to have USA Today bestselling author Lois Winston as a guest on my blog. Lois has just released her latest Anastasia Pollack Crafting Mystery, SCRAPBOOK OF MURDER. I thought you'd like to know what makes Anastasia tick. Lois has provide some insight to who her delightful protagonist is.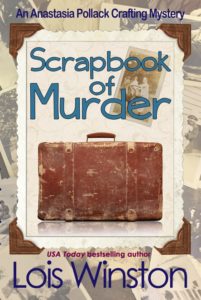 KK: It's time to get your protagonist out of her/his comfort zone. You want to present her with a challenge and you've given her the following choices: climb Mount Everest; run a Marathon; trek across the Sierra Desert with a tribe of nomads; or sail around the world alone. Which would she choose?
LW: LOL! Seriously? Have you met Anastasia Pollack, reluctant amateur sleuth of the Anastasia Pollack Crafting Mysteries? I've killed off her husband and stuck her with both her communist mother-in-law and her self-proclaimed Russian princess mother as permanent houseguests who are forced to share a bedroom. I've given her debt equal to the GNP of Kazakhstan. I've tossed dead bodies in her path. Mobsters want her dead. She's got enough of a challenge making it through each day, and she'd never be able to do it without a steady diet of carbs, chocolate, and caffeine, none of which she'd have access to in your suggested locales. Besides, she hasn't exercised since high school gym class decades ago. There is no way this woman is going to climb, run, trek, or sail anywhere if she has any say in the matter. And believe me, she'd have much to say about it!
KK: If Anastasia could live in another time period, which would she choose and why?
LW: Interesting question. I don't see Anastasia wanting to live in the past. She's a woman who appreciates her creature comforts—especially since she's had to give up so many of them now that she's pinching pennies. She might opt to travel into the future, though, perhaps to a time when her life is less complicated than it is in the present.
KK: If Anastasia could change anything in her life, what would it be and why?
LW: Not marrying Dead Louse of a Spouse would definitely top her list. She had no clue who her husband really was until he suddenly dropped dead in Las Vegas when she thought he was at a sales meeting in Pennsylvania. That's when her American Dream life imploded. It's often said the wife is the last to know, and that certainly was the case with Anastasia.
KK: What do you and Anastasia have in common?
LW: Anastasia and I have similar backgrounds. She works as the crafts editor for a women's magazine. I've worked as a designer and editor for craft manufacturers, publishers, and craft and women's magazines. We both have two sons, although mine are no longer teenagers, and we both have (had, in my case) a communist mother-in-law. Lucille, Anastasia's mother-in-law, is based on my mother-in-law. (Feel free to offer your sympathy!) Unlike Anastasia, my husband is not a Dead Louse of a Spouse who gambled away all our savings and left me in huge debt with a Mafia loan shark breathing down my neck. However, growing up in New Jersey, I did go to school with the sons and daughters of quite a few "made men".
KK: If you and Anastasia had an argument, who would win and why?
LW: I would, of course, but only because I write the books in which she stars. She has to do what I say, whether she likes it or not. However, if Anastasia suddenly sprang to life, I have no doubt every argument would end in a draw. We're both incredibly stubborn.
KK: What's in store for Anastasia in your next mystery?
LW: Since Scrapbook of Murder, the sixth book in the Anastasia Pollack Crafting Mystery series, takes place around Thanksgiving, and each book in the series has taken place within weeks of the previous title, I'll be writing a Christmas-set mystery next. I'm in the early stages of thinking about plot right now and haven't settled on anything specific at this point.
Scrapbook of Murder
An Anastasia Pollack Crafting Mystery, Book 6
Crafts and murder don't normally go hand-in-hand, but normal deserted craft editor Anastasia Pollack's world nearly a year ago. Now, tripping over dead bodies seems to be the "new normal" for this reluctant amateur sleuth.
When the daughter of a murdered neighbor asks Anastasia to create a family scrapbook from old photographs and memorabilia discovered in a battered suitcase, she agrees—not only out of friendship but also from a sense of guilt over the older woman's death. However, as Anastasia begins sorting through the contents of the suitcase, she discovers a letter revealing a fifty-year-old secret, one that unearths a long-buried scandal and unleashes a killer. Suddenly Anastasia is back in sleuthing mode as she races to prevent a suitcase full of trouble from leading to more deaths.
Buy Links:
Kindle http://amzn.to/2ffIMgy
Kobo https://www.kobo.com/us/en/ebook/scrapbook-of-murder
iTunes https://itunes.apple.com/us/book/scrapbook-of-murder/id1286758416?mt=11
Nook https://www.barnesandnoble.com/w/scrapbook-of-murder-lois-winston/1127145157?ean=2940158851896
Paperback http://amzn.to/2y2Omhl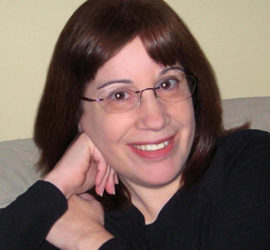 Bio:
USA Today bestselling and award-winning author Lois Winston writes mystery, romance, romantic suspense, chick lit, women's fiction, children's chapter books, and nonfiction under her own name and her Emma Carlyle pen name. Kirkus Reviews dubbed her critically acclaimed Anastasia Pollack Crafting Mystery series, "North Jersey's more mature answer to Stephanie Plum." In addition, Lois is an award-winning craft and needlework designer who often draws much of her source material for both her characters and plots from her experiences in the crafts industry.
Website: www.loiswinston.com
Killer Crafts & Crafty Killers blog: www.anastasiapollack.blogspot.com
Pinterest: www.pinterest.com/anasleuthå
Twitter at https://twitter.com/Anasleuth
Newsletter sign-up: https://app.mailerlite.com/webforms/landing/z1z1u5