Onion Panade
For years whenever I prepared Thanksgiving dinner, I relied on old standard side dishes, most of which came from my mother's menu: green bean casserole; baked sweet potatoes; broccoli casserole, mashed potatoes and cream gravy. Get the picture: casserole, potatoes, casserole; potatoes.
A couple of years ago I was looking to mix it up a bit; set a dish on the table no one had ever eaten, at least in my family. I came across this recipe in one of my favorite foodie books, A Poor Man's Feast by Elissa Altman. It's not only unbelievably simple to prepare, it's also become my favorite comfort food. The dish is called Onion Panade and it's now a permanent addition to my Thanksgiving meal.
Altman refers to the dish as "peasant food." I like to call it the French Onion Soup of casseroles. Her recipe calls for seven ingredients, I've added two more and made some minor adjustments
Ingredients:
3 tablespoons of olive oil
2 large yellow onions thinly sliced
6 gloves of minced garlic
1 cup of sliced mushrooms
pinch of salt
6 slices of day-old bread. Any kind will do: white, grain, French (I've even used croutons. But my favorite is toasted focaccia.)
1 ½ cups of grated Parmigiano Reggiano cheese
3 ounces of goat cheese
2 to 3 cups stock (beef, chicken, or vegetable)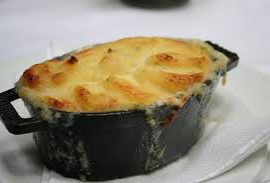 Preparation:
Preheat over to 325.
In a large skillet, heat olive oil until it shimmers. Add onion slices and toss to coat them with oil. After about fifteen minutes, add the mushrooms and garlic and continue to cook until the mixture turns golden brown and begins to caramelize. Remove from heat and season with salt.
Lightly grease a two-quart casserole dish. Line the bottom with bread. Spoon a layer of onion mixture over the bread. Dot with an ounce of goat cheese. Top with ¼ cup grated cheese or enough to cover the onion mixture. Continue layering until the bread, onion mixture, and cheeses are used, reserving ¼ to 1/3 cup of Parmigiano Reggiano cheese.
Slowly pour the stock into the dish, until it almost reaching the lip. Add the rest of the grated cheese on top.
Carefully place the dish on a baking sheet.
Slide into the oven and bake until bubbly and the top turns golden brown. Usually about 1½ hour.
Serve while hot.
I couldn't find the origin of the recipe, but several versions show up in Spanish, French, Italian, British, and Indonesian cuisine. One of the nice things about the dish is its versatility. You can turn it into a main dish by adding other ingredients such as: beef; lamb; chicken; crab; spinach; kale, and yes, even potatoes.