I had the pleasure of meeting Marilyn Meredith a few years ago at a writer's conference. Since then, she's been  a guest on my blog several times. Marilyn is one of the most prolific mystery writers I know. Find out how she manages to churn out her mystery masterpieces.
The Balancing Act of Writing Two Different Mystery Series
Under the name of Marilyn Meredith, I write the Deputy Tempe Crabtree mystery series, and as F.M. Meredith, I'm the author of the Rocky Bluff P.D. series.
The only similarity between the two is they are both about law enforcement in the broader sense. However, Tempe is a resident deputy in a mountain community and the stories come from her point of view. In the Rocky Bluff P.D. series the setting is a small beach community and the stories come from several different points of view.
While I'm writing a new book in one series, I'm usually promoting the latest in the other series and that's what's happening now. I'm in the middle of promoting the latest RBPD mystery, Unresolved, which at the moment means letting everyone know about t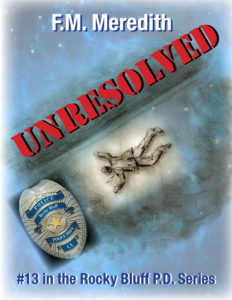 his blog tour. And at the same time, I'm in the middle of writing the next Deputy Tempe Crabtree mystery. It is truly a balancing act.
If being an author and my own publicist was all I had to do, it wouldn't be so hard—but I have a very full life. No, I don't work outside the home, but I do have other endeavors. I won't go into what they are right now, if you follow me on Facebook you know I'm busy all the time. I also have a big family, bigger than most, and spending time with them is also important.
What I'm always hoping for is that I'll get new readers who will enjoy following along as the Rocky Bluff P.D. detectives solve the latest crimes and how they and the other officers face whatever challenges come up in their home lives.
M. aka Marilyn Meredith
#13 in the Rocky Bluff P.D. series, Unresolved Blurb:
Rocky Bluff P.D. is underpaid and understaffed and when two dead bodies turn up, the department is stretched to the limit. The mayor is the first body discovered, the second an older woman whose death is caused in a bizarre manner. Because no one liked the mayor, including his estranged wife and the members of the city council, the suspects are many, but each one has an alibi.
Copies may be purchased from Book and Table by emailing bookandtablevaldosta@gmail.com with a 10% discount and free shipping, as well as all the usual places.
Bio: F. M. Meredith lived for many years in a small beach community much like Rocky Bluff. She has many relatives and friends who are in law enforcement and share their experiences and expertise with her. She taught writing for Writers Digest Schools for 10 years, and was an instructor at the prestigious Maui Writers Retreat, and has taught at many writers' conferences. Marilyn is a member of three chapters of Sisters in Crime, Mystery Writers of America, and serves on the board of the Public Safety Writers of America. She lives in the foothills of the Sierra. Visit her at http://fictionforyou.com and her blog at http://marilymeredith.blogspot.com/
On May 3 you'll find me here, writing about: Choosing Characters' Names and the Rules I've Broken