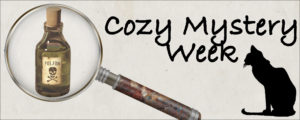 Writer Leslie Ann Sartor organized our Cozy Mystery Celebration.
Today we'll hear from awarding-winning author Paty Jager about selecting a small town for a Cozy Mystery setting.
"Most cozy mystery books and series are set in a small town or village where if the amateur sleuth doesn't know someone, they do know someone who knows that person."
Read and share!
https://anindieadventure.blogspot.com/2017/04/cozy-mystery-week-paty-jager-on.html